Being dressed up does not mean being boring. Last year, there was a rash of chic blazers lined on the bottom with ostrich feathers. As they were almost always sold out, and over $500, it seemed unlikely that one would come into my possession. However, with a little help from the internet, I ended up making my own, which I now drape over my shoulders when I want to bring the drama.
The drama has been brought-en.
Close up of the feathers.
I looked for a while for the perfect black blazer on which to sew the feathers I bought on Etsy (example
here
). I wanted something streamlined and that was a little more cropped, as otherwise the feathers would hang down too low and I would sit on them. I ended up with the perfect black blazer from H&M, which had a great fit, texture, and made this whole project a lot more affordable.
I think that this blazer also works with a more casual outfit, and any day there is a little bit of a breeze to kick up the feathers.
Blazer: DIY H&M Blazer
First Photo | Dress: Theory
Second Photo| Sweater: Gap
Skirt: Theory
Who knew ostrich feathers could be so multi-purpose? Is there any trend you've DIY'd in order to try it out?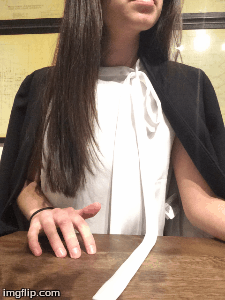 Ready to win a negotiation.